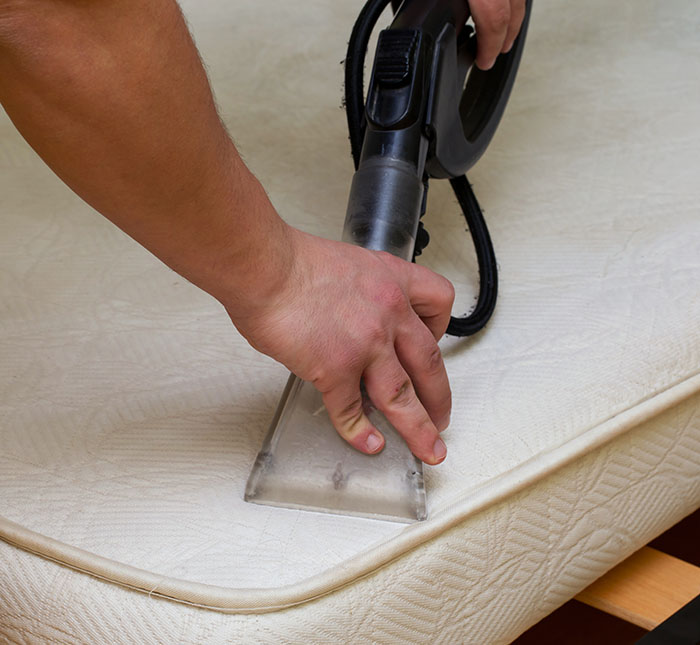 Professional Mattress Steam Cleaning
You spend around a third of your lifetime asleep in bed, but how often do you clean your mattress? Without a professional clean, your mattress over time will build-up of bacteria, dust mites, and even worse, such as bed bugs. These unwanted additions to your bed and mattress are not only unsanitary, but they can also cause allergies, skin problems, and other health issues. Empire's professional mattress cleaning service will help rid your mattress of these nasty contaminants, and keep your mattress smelling fresh and looking brand new.
Our experienced technicians are well trained in the best cleaning methods for mattress cleaning. They only use only the safest, family-friendly cleaning agents. If you can't remember the last time you had your mattress professionally cleaned, then it's probably overdue. Give Empire a call today to book your service.
One of our trained technicians will begin the process by vacuuming your mattress thoroughly to remove any loose dirt or solid particles. After that, any stains will be treated with our family-safe, pre-stain remover. The technician will use our industry-grade hot water extraction equipment to remove all the absorbed dirt, along with any allergens and contaminants.
This process will leave your mattress thoroughly clean, fresh and healthy for your family. In the process, our hot water extraction machine will remove the majority of moisture, meaning your mattress will be dry in a matter of hours. A deodoriser is applied afterwards to ensure your mattress remains smelling fresh for weeks to come.
All our repairs come with a 12-month guarantee at Empire Upholstery and we ensure 100% customer satisfaction. Be at ease with the quality workmanship you will receive from our experienced team of fully trained and qualified craftsmen. Leave all of your Perth upholstery repairs to the experts at Empire Upholstery.
Why Do you Need Professional Mattress Cleaning?
You're mattress never looks or smells better than after its been through the hot-water extraction process. All the foul odours trapped in the fibres of the mattress are eradicated, and after an application of our deodoriser, your mattress will be left smelling fantastic.
Just with simple daily use and everyday interactions, it's unavoidable to have a build-up of germs and contaminants on your mattress. How do you sanitise a mattress with ordinary household cleaners? Short answer: You can't, at least not effectively. That's why you hire the professionals.
Bed bugs are small insects that feed on your blood, causing skin irritation. Whilst they don't cause disease or sickness, they are unpleasant to be found on your mattress and are notoriously hard to get rid of from your mattress and pillows.
Dust mites are microscopic creatures that feed on discarded human skin, house dust as well as things like pollen. They don't bite, or sting but they contain a potent allergen and shed droppings, and which can trigger things such as asthma, hay-fever and eczema.
Spills and accidents are unavoidable, particularly with kids and pets. Liquids and foods can soak through your mattress, leaving them stained and unsightly but with Empire's professional mattress cleaning service, these stains don't have to be permanent.
If your mattress is exposed to damp conditions regularly, whether that be from the natural environment or as a result of human factors such as spills, sweat or urine, then the likelihood of mould increases. Mould damages mattress fibres as well as emitting foul odours and unsanitary conditions.