Using the best upholstery cleaning products are essential. Not only do you want to achieve the best results, but you also want to ensure that you don't use third-rate products that could potentially do more harm than good to your furniture. If you know what to look for and use the product correctly, then the right upholstery cleaning agent will lift stains and breath new life back into anything from lounge suites to car seats.
Upholstery cleaners come in many different forms and require varying methods of application. Here are recommended top picks for upholstery cleaning products in 2021.
1. Astonish Fabric Stain Remover
If you need instant stain removal, there's no better than Astonish's fabric stain remover.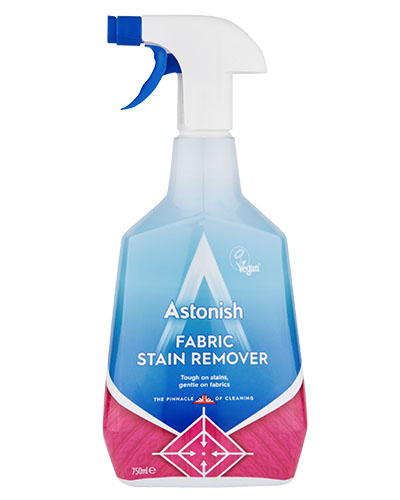 Specifications:
Pros:
Fast-acting
No scrubbing required
Affordable
Vegan-friendly/cruelty-free
Cons:
Not usable on flameproof or waterproof fabrics (i.e. velvet, suede, leather)
Why You Might Buy
Although designed as a general fabric stain remover for stains on clothes, Astonish Fabric Stain Remover is equally effective on upholstery such as sofas and armchairs. Still, it can also be used on curtains and rugs.
How to Use
The first step is to absorb as much moisture from the stain possible by blotting with a clean, dry cloth (good quality paper towels are ideal also). Do this until no more of the stain is transferred to the clot, and then spray the product immediately after and leave for 10 minutes. Once you've done that simply wipe with a damp cloth or better yet, if possible, pop it in the washing machine.
Best Results
Being a superfast acting agent Astonish Fabric Cleaner is perfect for such occasions where you might be entertaining guests. Something is accidentally split, and you don't want to be cleaning instead of socialising. It's excellent on wine stains also.
2. Dr. Beckmann Carpet Stain Remover
Best upholstery cleaner for when you need to scrub a tough stain out.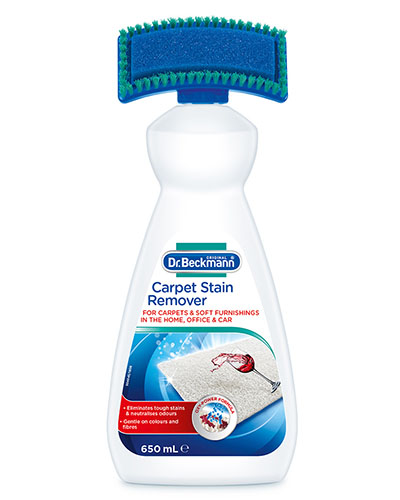 Specifications:
Pros:
Brush included
Easy application and process
Is very useful on tougher, more challenging to remove stains such as beetroot, red wine and blood.
Cons:
People tend to prefer sprays
Why You Might Buy
Great targeting specific areas. The Dr Beckmann Carpet Stain Remover is your best friend if you are a household with young children and pets.
How to Use
Before you use it, take off the brush head and make a small hole in the seal and then screw it back on again. Before application, remove any loose dirt from the area and soak up any excess liquid. Position the bottle so that the brush is touching the stain and then lightly squeeze until the product comes out. Brush the product into the stain until you start seeing results and then leave for 5 minutes. Remove any residue with a damp cloth.
Best Results
This carpet cleaner is effective at removing almost any stain. It is also convenient for cleaning car upholstery.
3. ASTONISH STAIN REMOVER SOAP
One of the best performing sustainable upholstery cleaning products is available. If you're someone who likes to be eco-minded, then this is ideal for you.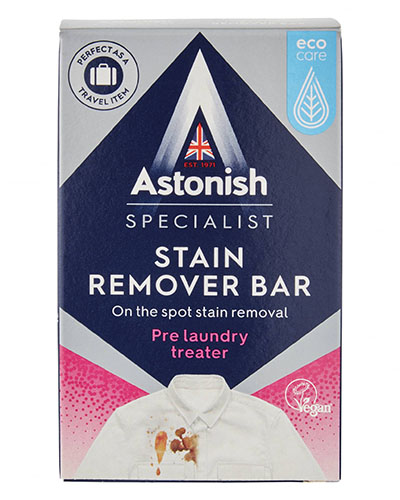 Specifications:
Type: Bar
Pros:
No strong odour
Eco-friendly & vegan
Inexpensive
Dual upholstery and clothes cleaning product
Cons:
Involves getting your hands a little dirty
Cannot be used on leather or suede
Why You Might Buy
If you're trying to reduce your plastic waste or avoid products tested on animals, this is the cleaning product you'll want to use.
How to Use
Wet the stain and rub the bar of soap onto a damp, clean cloth or sponge. Then dab the stain (both sides if possible), and then dry with a clean cloth. If possible, rinse the fabric by hand or machine wash, but remember to always check the label first.
Best Results
Being a bar of soap, it makes it great for emergency spot removal. It can be used on white or coloured fabrics.
4. Cleanly Upholstery Cleaner
An excellent spray application upholstery cleaner, which is also a natural product, so it's great for those who prefer not to use strong chemicals.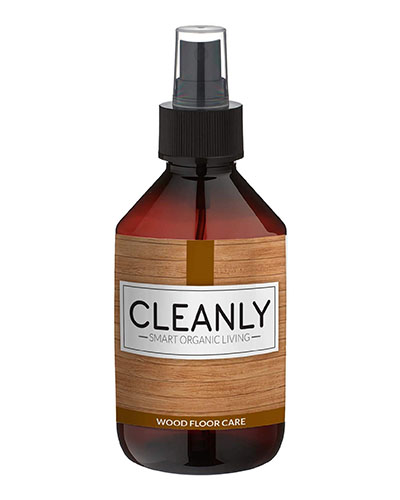 Specifications:
Pros:
Effective on all types of upholstery
Cruelty-free and organic
Makes your home smell great
Cons:
Expensive in comparison to other upholstery cleaners
Why You Might Buy
This premium product utilises a spray application and is fantastic for both cleaning and deodorising your upholstery. Yes, it may be more expensive than other brands. Still, it is exceptionally reliable and leaves your home smelling of lavender and eucalyptus.
How to Use
Super easy to use. Just spray over the affected area, wait for 5 minutes then blot with a paper towel or clean cloth.
Best Results
This is one of the few natural upholstery cleaners that does an amazing job of cleaning large areas and spot cleaning.
5. Vanish Pet Expert Carpet Care
If you're a pet owner, then this product is perfect for you. Foam spray for fast-acting stain removal.
Specifications:
Pros:
Quick application
Widely available
Cons:
Only effective on fresh stains
Why You Might Buy
If you're a pet owner, then you know that you're going to be battling stains on your carpets and furniture. This product will be your best ally in this fight, so it's well worth the investment to keep it stocked.
How to Use
Spray and blot. There's no cleaning device required. You don't need to dilute, so it is perfect for busy homeowners who don't have time for a lot of cleaning and scrubbing but just need a quick, effective solution.
Best Results
Great for lighter stains, that haven't had much time to set in.
Mothers Car Carpet & Upholstery Cleaner
Our favourite multi-purpose cleaner. Car's get dirty and stained too and when they do you'll want this product in your cupboard ready-to-go.
Specifications:
Pros:
Excellent multi-purpose cleaner
Easy to use
Cons:
Being multi-purpose it's not as strong as other products
Why You Might Buy
It is one of the best car upholstery and carpet products available, but this product is also great for a range of other fabrics including vinyl, cloth and velour. As always though use on an inconspicuous area first just to be sure.
How to Use
Vacuum the stained area thoroughly to remove any loose dirt. Spray the agent over the stain (be generous with the amount you apply). Leave for 5 minutes or so then scrub well with a clean cloth. Vacuum any leftover dried cleaning agent and, if need be, repeat the process until the stain has been completely removed.
Best Results
Not being as strong as other upholstery cleaners, you may need to apply multiple times to get the best results. Also, it doesn't remove odours very effectively so you might want to use an additional agent (white vinegar will do the trick!) to get rid of any unwanted smells.
Armor All Carpet and Seat Foaming Cleaner
Hands-down the best cleaner for car upholstery. Especially for removing dirt and grease.
Specifications:
Pros:
Excellent at removing ingrained dirt and grease
Can be used on old stains
Can be used on rubber and plastic
Cons:
Is more expensive than other products
Has a strong odour
Why You Might Buy
If you have a vehicle that you're particularly proud of and want to keep looking its best then buy this product. Alternatively, if your car has suffered from some old spillage, then this product can help bring it back to its former glory.
How to Use
Spray onto the stained area and leave it to absorb for half an hour. Rub gently with a clean, damp sponge and then blot dry.
Best Results
Even though this product is a bit pricey, you'll want to apply liberal amounts of it when treating stains. Due to its odour, you may want to leave any windows open to air out afterwards. Other than that just use as prescribed and you can't go wrong!
So Which One is the Best?
Our top is Cleanly Upholstery Cleaner. Despite it being one of the more expensive items on the list, it really is an excellent choice for just about types of upholstery. Plus being vegan-friendly and organic, it's a great ethical choice, and it leaves your home smelling great afterwards. Of course, this is just our personal preference at the end of the day, you may find other products, not on this list that work wonders for you. If you have high-end leather furniture, you may want to purchase speciality cleaning products for their care.